Outstanding Master's Graduate
The Outstanding Masters Graduate Award is given to an exemplary graduating senior of Graduate School in recognition of outstanding academic achievement. Each graduate program can nominate one student for the award, based on leadership, scholarship, service, and research. A committee, led by the dean of the University's Graduate School, selects the top candidates.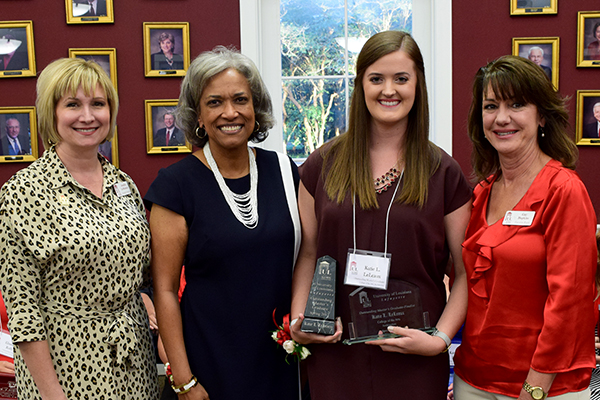 Katie Leleaux is the Outstanding Master's Graduate for the School of Architecture and Design and Overall Master's Graduate for the 2017 spring semester. She has a 4.0 GPA. Her master's project re-envisioned the former federal courthouse in downtown Lafayette as a homeless shelter. The proposal received the David Williams Award, the architecture program's highest honor. As a member of the Community Design Workshop, Leleaux contributed to public discussions about the proposed Interstate 49 Connector and served as chief editor of an upcoming volume that will detail what implications the elevated six-lane highway may hold for Lafayette. In April, she represented the University at CriticalMASS, a symposium where faculty and graduate students from programs across the country gather to discuss architectural ideas and issues. Last year, Leleaux received the American Institute of Architecture Students Excellence in Service Award for her contributions to the UL Lafayette College of the Arts. She holds a bachelor's degree in architecture from UL Lafayette and is the daughter of Roger and Darlene Leleaux of Duson, La.
Past Recipients
2017 Spring Katie Leleaux
2016 Fall Jude Monte
2016 Spring Timothy Shane
2015 Fall James Blankenship
2015 Spring Chasah West