The Outstanding Graduate Award is one of the highest honors the University bestows upon a graduating senior in recognition of outstanding academic and extracurricular achievements.  Every spring and fall semester, deans from eight academic colleges each nominate a student as an Outstanding Graduate, based on leadership, scholarship and service. A selection committee of the Alumni Association interviews the candidates and selects one to receive the overall award.
If you are a student that has been nominated for the Outstanding Graduate award, fill out this nomination form.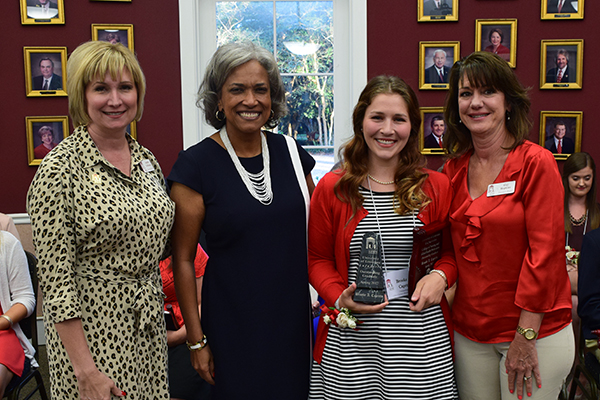 Brooke Capritto was named the Outstanding Graduate in the College of Nursing and Allied Health Professions and overall Outstanding Graduate for the 2017 spring semester. She has a 3.94 GPA and is a dietetics major. Capritto appeared on the President's List throughout her undergraduate studies. She is the recipient of numerous scholarships, including the University's Academic Excellence Scholarship. The Louisiana Academy of Nutrition and Dietetics honored her as its Outstanding Sophomore in 2015 and as its Outstanding Senior this year. Capritto served twice as a Student Government Association senator, first representing University College and then the College of Nursing and Allied Health Professions. She twice served as treasurer of the Student Dietetic Association before becoming its president. She volunteered at numerous marathons and fun runs to raise money to combat ALS and heart disease, among other causes. Capritto has been employed at Our Lady of Lourdes Regional Medical Center in Lafayette for three years while also teaching anatomy and physiology as a supplemental instructor at the UL Lafayette Learning Center. She is the daughter of James and Deana Theriot Capritto of St. Martinville, La.
Past Recipients
2017 Spring Brooke Capritto
2016 Fall Amélie Desormeaux
2016 Spring Ashley Duhon
2015 Fall Leondre' Queen
2015 Spring Zadid K. Haq
2014 Fall Alexandra Dardar
2014 Spring Matthew Hartley
2013 Fall Cory Etheredge
2013 Spring Brandon Plaisance
2012 Fall Madeleine Richard
2012 Spring Brooke Richard
2011 Fall Ashley Brignac
2011 Spring Patrick Adams
2010 Fall Dean Bouzigard
2010 Spring Jaime Carroll
2009 Fall Michelle Abadie
2009 Spring LanKhanh Pham
2008 Fall Kyle Kellner
2008 Spring Brennan Castille
2007 Fall Ramon Boudreaux
2007 Spring Claire Pettit
2006 Fall Melissa Manuel
2006 Spring Lanminh Pham
2005 Fall Aimee Duplantis
2005 Spring Lauren E. Barry
2004 Fall Johnathan Ledet
2004 Spring Eric Bartel
2003 Fall Brody Viator
2003 Spring Jessica Clark
2002 Fall Elward Gardner
2002 Spring Ann E. Wingate
2001 Fall Blake Landry
2001 Spring Christopher B. Courville
2000 Fall Michelle K. Bryant
2000 Spring Scott L. Macicek
1999 Fall Kristy Lynn Aloisio
1999 Spring Paul Rochon
1998 Fall Laura Galan
1998 Spring Christopher M. Gradney
1997 Fall Cassie L. Willis
1997 Spring Timothy James Ellender
1996 Fall Peter G. Comeaux, Jr.
1996 Spring Edgar Thomas-Ponce
1995 Fall Kerrie A. Holmes
1995 Spring Donna Lynn Fontenot
1994 Fall Anjanette Marie Daigle
1994 Spring Cynthia Kinsland
1993 Fall Lance T. Martin
1993 Spring Shannon Elizabeth Hicks
1992 Fall Deidre Leigh Doucet
1992 Spring Vincent Barras
1991 Fall Donald J. Courville
1991 Spring Dana Belaire
1990 Fall Stefni Whitton
1990 Spring Pam Bourque
1989 Fall Melanie Binet
1989 Spring Frank W. Summers III
1988 Fall Dona K. Renegar
1988 Spring Julie Authement
1987 Fall Donna Chance
1987 Fall Melanie Elliott
1987 Spring Charlotte Hayes Mariah
1986 Fall Shannon Michelle Rutland
1986 Spring Phillip Noel
1985 Fall Camille Domingue
1985 Spring Nannette J. Jolivette
1984 Fall Bernard B. Rees
1984 Spring Judy Marie Deshotels
1983 Fall Jude D. Bourque
1983 Spring James Randy Young
1982 Fall Erin O'Neil
1982 Spring Mark C. Pierret
1981 Fall Julia C. Cowan
1981 Fall Elmo J. Laborde, Jr.
1981 Spring Regina Bouillion
1981 Spring Gary Lee Sonnier
1980 Fall Nancy K. Harris
1980 Fall Stann Stirling
1980 Spring Lynn Kathy Maher
1980 Spring James 'Jim' Slatten
1979 Fall Stephen J. Oats
1979 Fall Lila Houeye
1979 Spring Lisa Romero
1979 Spring Ryan Barilleaux
1978 Amy Lee Sonnlietner
1978 Terry Huval
1977 Desley Noonan
1977 Roger McChesney
1976 Madelyn Broussard-Scott
1976 Cary Menard
1975 Linda Eyster
1975 Paul Tabary II
1974 Sidney Watson
1974 Barbara Whitesides
1974 Joseph Charles Giglio, Jr.
1973 Deborah Sue Duplechin
1973 Lorrie T. Olivier
1972 Mary E. Melancon
1972 John Schneider
1971 Cheryl T. Arceneaux
1971 George Coussan
1970 Donna Mayeaux
1970 James Denny III
1969 Margaret Berniard
1969 Vance Andrus
1968 Verna Marie Stanley
1968 James Massingale
1967 Karen Ann Atteberry
1967 Earl J. Latiolais
1966 Stan Hardee
1966 Connie Dill
1965 Ann Jennings
1965 John Hebert
1964 Carolyn Ory
1964 Paul Cloutier
1963 Patricia Boutte
1963 John W. Melton III
1962 Suzanne Firmin
1962 Winston Riddick
1961 Janet Dill-Schafer
1961 Isaac Jackson Burson, Jr.
1960 Douglas Adkins
1960 Heloise Martin-Cassidy
1959 Dale Reed
1959 Geraldine Cormier-Hubbell
1958 Gale Breaux
1958 Helen Trahan-Arnold
1957 John Denison
1957 Frances Pickering
1956 Donald McSpadden
1956 Elaine Barron
1955 Donovan Pontiff
1955 Byrdie E. Eason
1954 Mark W. Boudreaux
1954 Barbara Elaine Taylor
1953 Janet Foss-Costley
1953 David B. Regan
1952 Harry Thomas Lemmon
1952 Grace Kloor Kieffer
1951 Billie Jewell Trahan-Goux
1951 Chris Duplechain
1950 Lucille Magon-Smith
1950 David Fisher
1949 Ruby Lee Draughon-Crider
1949 Alex Stirling
1948 Anna Givens-Snyder
1948 Tom Bartlett
1947 Mabel Rosell Patterson
1947 William Allen Sistrunk
1946 Marvelle McMillan
1946 Michael Pendergast
1945 Fay Gautreau-Brown
1944 Marion Fleming-Weber
1943 Leonard Bienvenu
1942 Evelyn Toups-Comeaux
1941 Ernest L. McMillan
1940 Margaret McMillan
1939 Kaliste J. Saloom, Jr.
1938 Elia Boudreaux
1937 Harry Stuart Saucier
1936 Lewis Texada Graham
1935 Floyd Hamilton
1934 Frances Amelia Vaughn
1933 Carroll Lee Hoffpauir
1932 Edith Louise Hoffpauir
1931 Joyce Katherine Sturdivant
1930 Crow Girard Davidson
1929 Robert Spencer Barnett