Alumni Spotlight: Hannah Gumbo '12
Mon, 11/13/2023 - 5:12pm
Alumna and artist Hannah Gumbo has always been passionate about spreading joy in the world. Now, she gets to do that daily through her career as a freelance artist, illustrator and muralist. Gumbo's work has touched hundreds of people in Louisiana and beyond. Whether she's creating a mural in Downtown Lafayette or custom stickers for a client, she has a knack for turning ideas into beautiful pieces of art.
Originally from Broussard, Gumbo grew up in a creative household. However, she truly developed her skills as an artist in high school and eventually when she attended the University of Louisiana at Lafayette. At the University, she focused her studies on painting and printmaking, which exposed her to new skills that pushed her creatively. "I felt very challenged and wished I would've been able to take more classes at UL Lafayette," Gumbo said.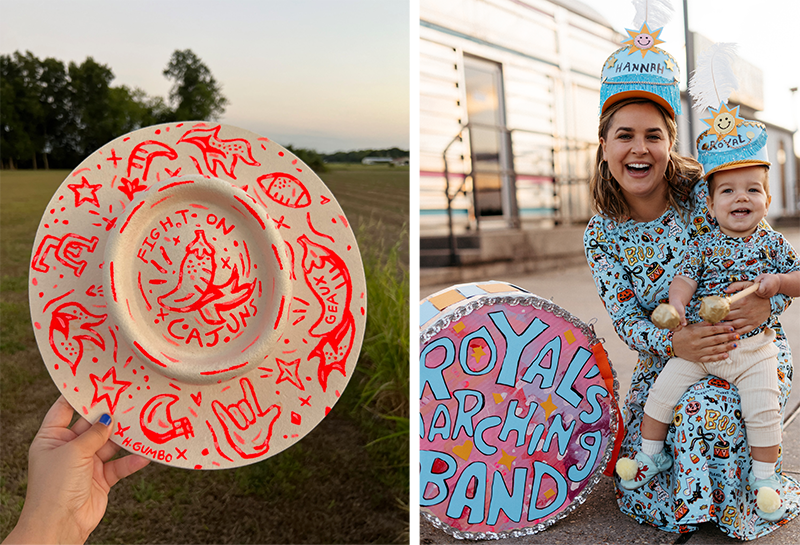 Toward the end of her academic journey, she questioned if she could turn her passion for art into a career outside the classroom. All those worries melted away when she received an award from her professors for her outstanding work. "I remember that award made me feel like my professors saw promise in me and that I'm in the right place. I knew I was where I was meant to be," she said. 
After graduation, Gumbo's career as a freelance artist slowly grew into the business she has today. Her work is all hand-drawn, and she loves incorporating bright colors to bring her whimsical illustrations to life. She's worked with clients nationwide and has even created custom designs for celebrities such as Ellen DeGeneres. 
What she loves the most is that she gets to work together with extraordinary businesses, organizations and people on her projects. "I really enjoy not just making art but doing it with people and making it a collaborative process," Gumbo said. She is also passionate about passing her love of art to the next generation. Gumbo frequently visits schools throughout Acadiana to educate and inspire children to bring out their inner artist. "I think it's important to show kids that it's possible to pursue art to a professional degree. It's not the easiest thing in the world, but people are doing it all around us," she said.
There's no limit to what Gumbo can design, and she's constantly challenging herself to stretch her creative muscles. "I'm starting to get interested in surface patterns and turning those patterns into clothes. I would love to one day create pajamas and even fabrics," Gumbo said. As she looks towards the future, she knows she's leaving a legacy that her family and alma mater will be proud of. Most importantly, she loves that she can give back and keep creating work in the community that shaped her into the artist that she is today. 
Main Photo Caption: Artist Hannah Gumbo sits in front of a mural she created in Downtown Lafayette. (submitted) Story Photo Captions – Left: Hannah Gumbo shows off Ragin' Cajuns-inspired hat design. (Submitted) Right: Hannah and her son sport matching "Royal Marching Band" Hannah Gumbo designs. (Photo Credit: Danni Duck)