Senior portraits become surprise proposal at the Alumni Center
Wed, 05/17/2023 - 9:00am
When recent UL Lafayette graduate Caroline Staples booked her senior pictures at the Alumni Center, she had no idea that her photo session would turn into a surprise proposal. 
Caroline Staples '23 and Doug Leonards '21 first met as students at the University of Louisiana at Lafayette. The two both grew up surrounded by friends and family who attended the University, so they always knew that's where they wanted to further their education. However, they didn't know that they would end up finding each other along the way. 
After dating for several years and experiencing many memories together, Leonards knew he wanted to spend the rest of his life with Staples. However, he needed to find the right time to pop the question. When Staples started planning her senior photo session at the Alumni Center, Leonards thought this might be the perfect opportunity to surprise her with a proposal. "I started thinking that if she's taking her senior pictures with the photographer that she wants while wearing a dress that she likes, this might work out," Leonards said.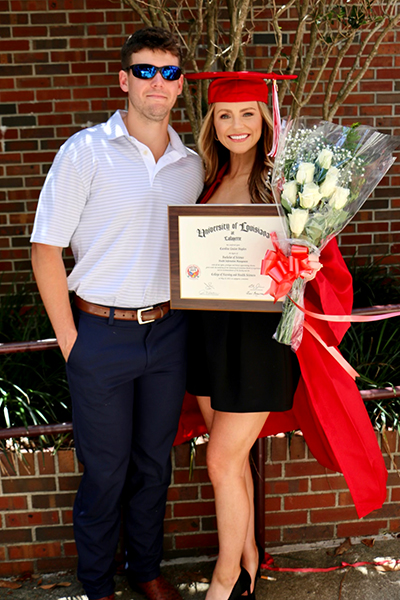 On the day of her senior photo session, Staples showed up at the Alumni Center for her scheduled shoot. She spent the afternoon taking pictures around the gorgeous grounds until she finally arrived at her last location.  
As she was finishing her last few pictures, she noticed someone approaching her from behind the trees. When she saw it was Leonards walking toward her, her heart skipped a beat. "When I saw him, I knew immediately what was about to happen. He then got down on one knee, and I started jumping for joy," Staples said. 
Staples and Leonards agree that the Alumni Center was the perfect place to capture their proposal. "It's a really pretty area, and they have so many places to take pictures," Staples said. Now, the couple will always be able to look back on the pictures they took at the Alumni Center that day and remember this special moment for the rest of their lives. 
Photography sessions at the Alumni Center are made on a reservation basis and require a small fee to prevent overbooking. If you're interested in reserving the Alumni Center for a photo session or rental,
click here
or email John Claude Arceneaux at
johnclaude.arceneaux@louisiana.edu
.
Photo Caption: (Main) Caroline Staples shows off her new engagement ring after a surprise proposal at the Alumni Center with her fiancé, Doug Leonards. (Submitted) (In-Story) Caroline and Doug celebrate Caroline's Spring 2023 Commencement with a photo after the ceremony. (Submitted)