Alumni Spotlight: Kathryn Shea Duncan '18
Wed, 03/15/2023 - 8:28am
What started as a passion for her community and her state has turned into a full-blown career in the tourism industry for alumna Kathryn Shea Duncan. Duncan '18 is currently the director of social media for Visit Lake Charles — the official tourism organization for Lake Charles and the Southwest Louisiana region.
In this role, Duncan has built this position from the ground up. She's used her background in commercial photography and video skills to grow the organization's social media identity through eloquent and visual storytelling. Because of her work, several businesses in the Lake Charles area have gotten exposure across the country that wouldn't have been possible without the power of social media.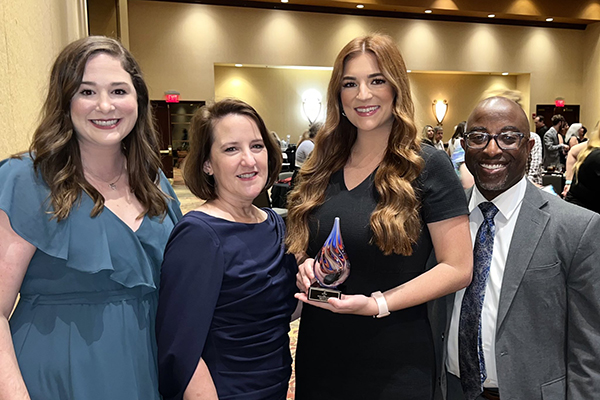 There is no doubt that Duncan has a bright future ahead of her. Still, she wouldn't be where she is today without the education she received from the University of Louisiana at Lafayette. Recently, Duncan was even awarded the 2022 Rising Star Award from the Southeast Tourism Society. This prestigious award was given to her for the impact that she's made so far in the tourism industry. 
Originally from Crowley, Duncan decided to attend the University for its intimate classes and diverse community. "I wanted that personal experience with my professors and colleagues," Duncan said. 
She decided to study business and marketing and jumped headfirst into life on campus. One of her most memorable experiences was being a founding member of the UL Lafayette Habitat for Humanity chapter. "That was one of the reasons that I fell in love with UL Lafayette so quickly — it was always communicated to us to get involved and how that would make you a well-rounded professional in the future," Duncan said. 
During her senior year of college, Duncan pursued one of her other passions: pageantry. She became the 81st International Rice Festival Queen and spent her senior year of college balancing school with her duties as queen.
"I ended up traveling to over 80 events across the country as the 81st International Rice Festival Queen. It was during that time that I became fascinated with the tourism industry and realized that I wanted to pursue it as a career after college," Duncan said. 
As she's built the Visit Lake Charles social media accounts, Duncan has learned that no two days are the same when you work in social media. "It is one of those roles that is constantly changing. I'm always having to educate myself on new developments and new trends," Duncan said. No matter what challenges come her way, Duncan is ready to tackle them head-on. Most importantly, she wants to ensure that she's always making an impact with her work and making her home state of Louisiana proud.
Photo Caption: (Main) Duncan takes a "UL" selfie in front of the Louisiana Wall on campus. (In Story) Duncan is awarded the 2022 Rising Star Award from the Southeast Tourism Society. (Submitted)